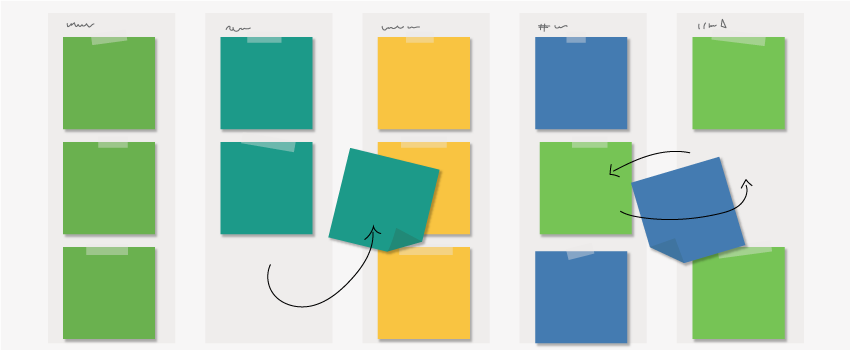 Using Kanban Boards to Help Manage Change
Hopefully, you already understand change management as the process, or capability, that manages change effectively, efficiently, and safely (or "change control" if you're already aligned with ITIL 4). Done well, it's the capability that enables a steady state, in terms of IT service delivery, while supporting service transformation and communication. But all too often it can be seen as "red tape," or a series of hoops to jump through, paying lip service to the real issues and the need for speed.
There are numerous potential issues. For example, sometimes the right levels of approval or delegation aren't used, causing change advisory board (CAB) meetings to grind to a halt due to volumes or, alternatively, to descend into chaos. Other times, the change practices are too cumbersome and don't flex or adapt to business needs. Regardless of the cause(s), too much change-process can lead to frustration, delays, and decreased stakeholder satisfaction which hopefully we can all agree is bad news.
Your organization will likely need change management (or change control) in place, to ensure that the right content is delivered in the right way, and the trick is to make your capability aligned with the needs of your business. One way of accomplishing this is by borrowing aspects of kanban to provide a leaner approach to change and to add clarity to your process.
My blog therefore looks at how to up your change management game using kanban.
What's kanban?
Kanban is a lean method to manage and improve work across systems.
The approach aims to manage work effectively by balancing demands with available capacity, and by improving the handling of system-level bottlenecks. It requires real-time communication of capacity and full transparency of work to maintain a continuous and efficient rate of output.
In doing this, work items are represented visually on a kanban board, allowing team members to see the status of every piece of work at any time. This has been proven to give teams more flexible planning options, faster outputs, clearer focus, and transparency throughout the development and deployment cycles – all of which lend themselves to making a CAB leaner, more streamlined, and more effective.
#Kanban boards give teams more flexible planning options, faster outputs, clearer focus, and transparency – all of which lend themselves to making a Change Advisory Board leaner, more streamlined, and more effective.
Click To Tweet
How kanban boards work
A kanban board is an agile project management tool designed to help visualize work, limit work-in-progress (WIP), and maximize efficiency and flow.
Kanban boards use cards, columns, and continuous improvement to help teams commit to the right amount of work, deliver it with the correct requirements, and complete it on time. Importantly:
Each kanban board is a visual representation of a work stream
Each stage is represented by a column and each work unit or change is represented by a card.
When using kanban to get a handle on your change capability, the following categories might be useful in terms of keeping things on track:
Change submitted and initial review – the change has been raised and is at the initial review stage
Build and test approval – the change has been peer-reviewed and has met all the quality criteria needed to move on to the build and test stage
Build and test – the deployment has been built and tested
Deployment approval – the change has been successfully built and tested and all stakeholders have agreed that it can be deployed
Deployment – the change is being released into the appropriate environment
Review and close – all work pertaining to the change has been completed, a review has been carried out to ensure any lessons learned and opportunities for improvement have been captured, and all stakeholders are in agreement that the change can be closed off.
Find out how #Kanban boards can help your Change Advisory Board's operations and outcomes.
Click To Tweet
Getting started with kanban boards
Introducing kanban boards into your CAB process will be a step-change in making it leaner and more efficient, so you'll need to give some thought to communicating the new approach to your change owners.
In my experience, one of the biggest criticisms of ITIL v3 change management can be that it's perceived as a blocker rather than an enabler – so opening up your approach is a positive step in addressing this.
When introducing kanban boards, the following guidelines will help drive adoption:
First and foremost, only CAB-ready changes will be added onto the kanban board
Keep your change titles short so they make sense when viewed on a kanban card
Tell your stakeholders that each card must contain a reference, title, owner, and implementation window in order to progress
As a change progresses through the approval lifecycle, the board will be updated so that all parties will have a visible representation of what stage a change is at on the board
Changes not moving forward will be more visible and will need change-management intervention
Use standard changes, models, and templates to ensure that only the high-stakes, visibly-impacting changes are being discussed at CAB
A "delegated authority" capability can also be used to reduce the load on the CAB and to increase flow.
The benefits of kanban boards in CABs
So how will kanban boards help your CAB's operations and outcomes? Here are a few benefits:
Visual clarity – all stakeholders can see a visual representation of a change as it progresses through, or is unfortunately trapped within, the approval process
Improved responsiveness – if a change isn't progressing on the board, then it's visible to all; enabling the right action will be taken sooner rather than later
Increased output – kanban encourages teams to limit how much work they have in progress at any time, a concept referred to as limiting WIP; this encourages teams to work together to move work across the finish line, eliminating the distraction of multitasking as much as possible
Better collaboration – this intense focus allows teams practicing kanban to get more done, in shorter time frames
Empowered teams – the entire team owns the kanban system and shares responsibility for moving work across the finish line
Instills a kaizen culture – flow-based software delivery encourages a reduction in inventory
Queues are more controlled, buffers are shorter, hand-offs are briefer – because pull-based systems expose any process inefficiencies, delivery issues, or lack of clarity
They are a platform for continual service improvement (CSI) (or continual improvement in ITIL 4) – having a visual system for change management makes it easier to review processes and make improvements that cut waste, streamline workflows, and reduce overheads.
Have you successfully introduced kanban boards into your change practices? If so, please let me know the impact in the comments!

Posted by Joe the IT Guy
---