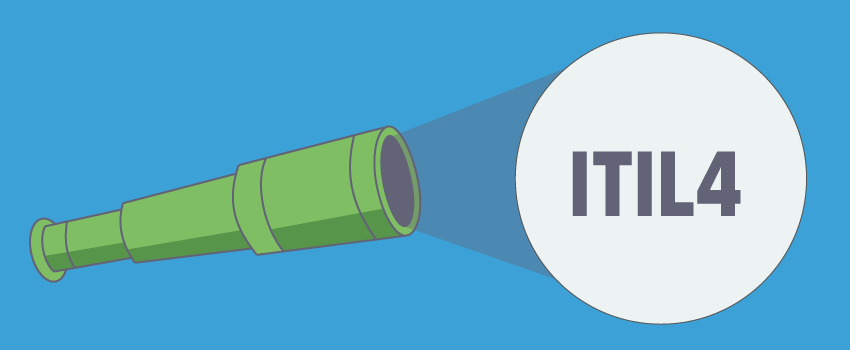 ITSM Future: 10 Things I'd Like to See in ITIL 4
Update since publication: The latest version of ITIL – ITIL 4 – was released on Monday 18th February. To find out what is actually covered in the latest version, along with what has changed, please read this blog by my good friend and ITIL 4 author Stuart Rance.
Did someone say "ITIL 4?" I'm definitely hearing a lot more buzz about the new version of this IT service management (ITSM) best practice framework as it turns 30, yes 30, next year. And, as with previous releases, there's the good, the bad, and the downright derogatory being said about where the new version of the best practice framework is heading. I'm always amazed at how quick some parts of the ITSM community are to criticize something before its detail is made public, but maybe they have been "burned" once too often before and a lack of facts breeds fiction?
Anyway, onward and upward. We're getting closer to the release of the new version of ITIL and are progressively finding out what will have changed from ITIL 2011 (yes, it really is going to be eight years between versions or twelve if you go back to ITIL v3 – it's a very long time in puppet years).
There are many questions still to be answered, around this new version, despite various articles and blogs appearing aimed at telling the reader what's changing – with most of them based on what's available on the AXELOS website. There's also snippets of information and insight from those involved, such as this ITIL 4 blog by the wonderful Troy DuMoulin, and this one by my good friend and the ever awesome Stuart Rance.
So where is ITIL 4 going?
The truth is that most of us just don't know yet. But what I do know are the things that I'd personally like to see change with the new version of this popular ITSM best practice framework.
10 Things I'd Like to See (Change) in ITIL 4
And yes, I deliberately start each of the following points with "let's" (i.e. "let US") to denote that many of them should be things that the ITSM community/industry pushes for if it really wants things to change:
Let's hear more (about what's happening with ITIL 4) and earlier. OK, this is a cheat point to start with, but if I knew more right now I wouldn't need to write this blog. ITIL 4 – although then only called something akin to "the next version" – was announced in November 2017. We're now a year on and, in my opinion, it's tricky to find out what's actually happening. So, let's not have a repeat of previous ITIL "soft" launches – for instance, not enough people know about the excellent content in the ITIL Practitioner publication released in 2016.
Let's drop the term "ITIL best practice." I think that if it really was best practice, then more of ITIL 2011's 26 processes would have been adopted (and adapted) by the ITSM community. Plus, best practice may not remain THE best practice for ever (or even just for very long). I'm happy with "good practice" though – but only where it can be shown that the good practice has been commonly adopted, i.e. it's not just a smart, theoretical, idea being shared with the best of intentions.
Let's make ITIL more practical. Not only in offering better "building blocks" for those who adopt it, but also recognizing that organizations might adopt ITIL capabilities in stages (or phases) – so let's see more practical guidance that reflects this. Then, we need to see greater commentary that this is just guidance which might need to be changed to best fit any given organization.
Let's have less focus on process adoption. The ITSM industry is thankfully getting a greater focus on outcomes and value, and ITIL needs to follow suit. Troy's blog mentions this, and Stuart has also alluded to this happening while speaking about ITIL 4 at industry events.
Let's recognize everything that's going on around the traditional ITSM "good practice." VeriSM is already doing this because it encompasses DevOps, Agile, and Lean along with "larger" service management use-case scenarios such as enterprise service management (ESM) and service integration and management (SIAM). ITSM now needs to be broader and taller than ever before.
Let's not hide the important content among content that's probably less helpful. ITIL 2011 uses a lot of words. An awful lot of words. There's some good stuff in there but I'm not sure that it's always easy for people to find it (or if the sheer volume puts people off trying to find it). So, with ITIL 4, let's follow the mantra that "sometimes less is more."
Let's see 2019-relevant content, with future-proofing where possible. For instance, the ITIL 2011 Service Operation book has two mentions of "cloud" – and one of these is a pointer to some cloud-focused content in the Service Strategy book. Yet cloud was already relevant to IT and ITSM professionals in 2011, with 2010 deemed by some to be "the year of the cloud." Of course, such content might need to be flagged as "emerging good practice," but the reader at least deserves to understand that they're on the cusp of significant change and what to do about it.
Let's also help people who don't want to take the ITIL 4 exam (yet). You might say: "Well, people don't have to take the exam." But this is isn't my point. Think about a busy service desk manager who wants to start to adopt ITIL 4 "good practice" for IT support – will they need to buy a suite of books – most of which will be irrelevant to them – or will they be able to spend a lesser amount to get only what they need to improve?
Let's see more high-quality free stuff (related to ITIL 4). I know ITIL 4 will be intellectual property (IP) that's delivered in a way that creates revenue for a vast ecosystem of companies. This is fine. But surely there's a case for ITIL 4 "tasters" that whet the appetite of potential book buyers and training attendees? Call it "try before you buy" or something else, but it should be an easy (and cheap) way to market ITIL 4 that also helps the reader.
Let's try to stop ITIL being merely a qualification-delivering, money-making machine. The pointy-fingered Paul Wilkinson has spoken and written repeatedly on the suboptimal qualification focus. Will it ever change? I personally don't think so (sadly), but it doesn't mean that the ITSM industry shouldn't still try (to change things).
So that's my ten wants from ITIL 4. Before you leave, please remember that these are merely ten things that I'd like to see done differently, not ten things that are changing. But as soon as I know what is happening, you can expect a blog either from me, or even the ITSM legend that is Stuart Rance, explaining how ITIL 4 is now all new and improved. In fact, as I mentioned above, Stuart has already written something that outlines the "what we already know," which you can read here.
Plus, I'd love to hear what you'd like to see in ITIL 4 – please let me know in the comments.

Posted by Joe the IT Guy
---