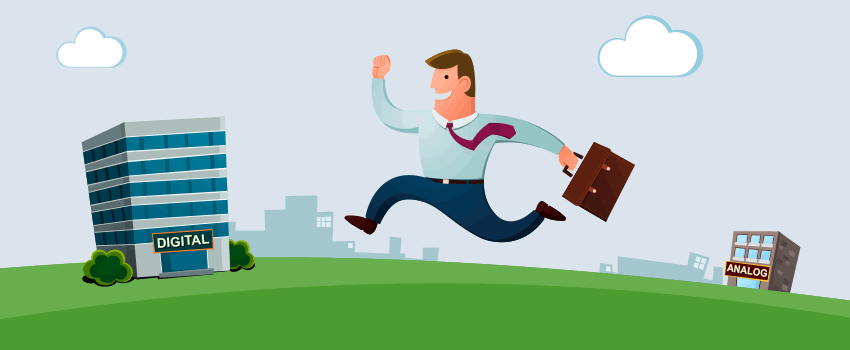 How ITSM Tools Help with Back-Office Digital Transformation
The digital transformation of back-office operations might not seem as sexy as the other two – more commonly talked about – elements of digital transformation: the introduction of new products and services based on technology and data exploitation, and the improvement of customer engagement mechanisms and the customer experience.
It also might not seem as important because, after all, "it's just the back office." But surely this type of thinking is akin to buying a sports car that has a 1000cc engine – no one in their right mind would do it and car manufacturers wouldn't dream of producing one (although I think I might have once owned one). So, why improve front-office capabilities and completely neglect the enabling back-office?
This blog looks at the importance of back-office transformation and how IT service management (ITSM) tools can help. But first there's a need "to be on the same page" in terms of what digital transformation is and what it means for you.
Understanding digital transformation
There have been many descriptions of digital transformation created since it became the must-do strategy for organizations. Two that have risen above others are:
"The use of technology to radically improve performance or reach of enterprises … to change customer relationships, internal processes, and value propositions" ~ Sloan MIT
"For some executives, it's about technology. For others, digital is a new way of engaging with customers. And for others still, it represents an entirely new way of doing business. None of these definitions is necessarily incorrect" ~ McKinsey
Importantly, these two descriptions of digital transformation go beyond the use of technology (and data) to create new products and services to:
    Allow people to appreciate that business operations need to be considered
    Emphasize that people, practices, and culture need to be in alignment for a company to truly achieve real digital success
The latter of which might remind you of ITIL and the mantra that successful ITSM is about "people, process, and technology – with people coming first" (hey, it's my mantra too).
People are also a key differentiator for digital transformation, with business leaders needing to understand that:
Investments in new products/services and customer engagement mechanisms will be suboptimal without an enabling back-office (digital) transformation.
Digital transformation is not about technology – it's primarily a business transformation that affects, and is affected by, people. It thus requires a new organizational structure and capabilities, plus associated cultural change, not just the creation of technology services.
Digital transformation requires a focus on the customer journey and customer centricity – something that will potentially be at odds with the IT department's traditional focus on efficiency-based process optimization.
The organization needs to be fully prepared for the activities required for, and the pressures caused by, digital transformation.
Digital transformation isn't a one-time thing – instead it's an on-going initiative.
Understanding this or, more specifically, having a company-wide understanding of what business transformation means for your organization is a vital first step for change.
Back-office operations and digital transformation
While many parts of the organization have introduced technology to improve operations over the last four decades (and, no – I'm not that old), this has often been related to the effective handling of data rather than the optimization of process workflows. For example, the use of human resources (HR) systems that hold employee data but leave HR personnel still managing requests for advice, help, and service via email inboxes, spreadsheets, and potentially bits of paper.
In such scenarios, there's also no easy way to get visibility into individual and team performance relative to:
Volumes handled
Time taken
Backlogs
Consistency of practices and policy application
The level of service-level target achievement
Customer feedback
With management having little idea as to whether service obligations have been met, all requests have been dealt with appropriately, or improvement opportunities exist.
The bottom line is that the employed practices are suboptimal and offer a manually-oriented approach to work that's the opposite of the new capabilities employed in the new products/services and customer engagement mechanisms of digital transformation. Plus, there's a high probability that the success of these new digital capabilities will suffer while the manual back-office operations cause delays, errors, and other issues.
There's a high probability that the success of these new digital capabilities will suffer while the manual back-office operations cause delays, errors, and other issues.
Click To Tweet
It doesn't sound great does it? But I have a potential solution…
Your ITSM tool might be the answer
The practice of ITSM – and the enabling technology, i.e. ITSM tools – has changed the way that IT services are delivered and supported (and I remember the "bad old days"). In particular, through the use of:
Service management best practices
Workflow automation and orchestration
Alerts and notifications
Knowledge management
Self-service portals and other access and communication channels such as chat and mobile apps
Collaborative capabilities
Dashboards and reporting capabilities
Plus, the current introduction of artificial intelligence (AI)-related capabilities that range from chatbots, through intelligent task execution, to greater insight into large volumes of data.
Such ITSM capabilities have spurred on the advancement of corporate strategies related to what's termed "enterprise service management" that are very similar to what's hoped for with the digital transformation of back-office operations – the automation of processes and other capabilities that improve the quality of outputs and outcomes, increase speed and efficiency, and reduce operational costs.
Enterprise service management 101 (if you need it)
If you're new to enterprise service management, it's important to appreciate that it's nothing new. It's at least a decade old and has previously been called other things, for instance:
Outside IT
Beyond IT
Beyond ITSM
Dropping the IT from ITSM
Service management
Shared services
In the absence of an agreed IT industry definition, it can be described as:
"The use of ITSM principles and capabilities in other business areas to improve performance, service, and outcomes."
Thankfully, "enterprise service management" is now the agreed term to describe this extension, and exploitation, of ITSM throughout the organization (well, it's now the most commonly-used term at least). And, while it has been around for well over a decade, its time is very much now. Because the concept of, and capabilities delivered through, enterprise service management are very well suited to the requirements of back-office (digital) transformation.
Thus, if your business colleagues are talking about, and potentially asking you, about digital transformation – in particular back-office digital transformation – then you might already have their solution working for you in IT. It's certainly, in my opinion, a great opportunity to help out your business colleagues and potentially a chance to get even more value from your current ITSM tool.

Posted by Joe the IT Guy
---