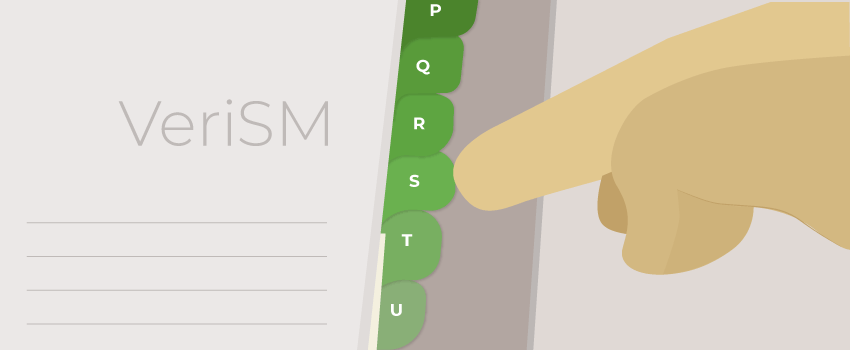 The A – Z of VeriSM
VeriSM – marketed as "service management for the digital age" – has been called "the new kid in town" in the world of service management. But do you really understand what this new service management approach is and why it was created? And, importantly, how it could help your organization.
Do you really understand what this new service management approach is and why it was created? And, importantly, how it could help your organization. @Joe_the_IT_Guy explains more here. #VeriSM
Click To Tweet
Some say that it's just another ITSM best-practice framework to confuse organizations with, while others believe it to be the answer to our service management needs in a digital world (with it being more than just IT service management (ITSM)).
Since its launch in late 2017, I've been asked many times about VeriSM – so I thought I'd do one of my hopefully-helpful A – Z posts to explain what it's all about.
Spoiler alert: It isn't just another ITSM best-practice framework.
A

voiding confusion

VeriSM was developed to help organizations to improve their service management capabilities and outcomes. "Duh!" you might say – but please read on.

In part, this is to avoid the confusion caused by all the different IT, ITSM, and service management approaches that seem to be popping up all over the place. Plus, in my experience, organizations can get stuck as they rigidly follow approaches – or more-commonly a single approach – instead of adapting them to suit their needs.

So, VeriSM helps to remove the rigidity and to reduce the confusion by showing organizations how they can fit different approaches together, and to move flexibly through them, in order to respond to the ever-changing technology and business environments.
B

usiness responsibility

Service management might be perceived by those working in ITSM roles as always having been very much focused on IT. But it wasn't and isn't.

Service management existed before ITSM and the original ITSM principles were built on some of these original good practices. The VeriSM approach now takes service management away from IT and shares it throughout the business. You might want to call it enterprise service management, back-office digital transformation, or something else – but it's an enterprise-led approach to service management not just ITSM.

Thus, VeriSM sees service management as the responsibility of the entire organization, and it therefore looks at service management from an end-to-end business perspective. And VeriSM says that the organization is the service provider, not the IT department.
C

onsumer-focused

The VeriSM model is made up of four activities with the consumer involved throughout:
Define – gathering requirements to design a solution that will meet consumer needs
Produce – creating the solution, ensuring that it meets the agreed needs
Provide – making the solution available
Respond – supporting the consumer, listening to and managing feedback, and improving where necessary
And the model stresses the need for communication between the organization and the consumer at the very beginning, when gathering requirements, through to the end, once the solution has been delivered and where the consumer is focused upon by ensuring that support is available, feedback is dealt with, and improvements are made.
D

igital transformation

VeriSM is here to help organizations prepare for, and deliver against, the digital transformation.

Technology is changing the way in which we work, and some businesses are struggling to keep up. VeriSM can help such organizations to work out where to apply their focus and how to use proven management practices to support their operations in the digital age.

Technology is changing the way in which we work, and some businesses are struggling to keep up. #VeriSM can help such organizations to work out where to apply their focus and how to use proven management practices to support their… Click To Tweet
E

volving

It's important to understand that VeriSM is not a framework or a complete body of best-practice in itself. Instead it's an approach designed to help organizations understand and utilize existing frameworks and best-practices.

It's thus an approach that's flexible and adaptable to change – and, importantly, it will continue to evolve to include new IT management and service management practices and technologies as they emerge.
F

acilitates customization

Every organization is different – which means that every organization needs its own way of managing its services and needs its own practices and processes.

VeriSM recognizes that there isn't a one-size-fits-all approach in service management and thus it was created in a manner to help organizations to customize their approach to best practice adoption.
G

overnance

VeriSM pushes the responsibility for service management across the whole organization. But for this to work in practice, there needs to be guidelines and rules in place, i.e. governance capabilities.

Governance is defined in VeriSM as a "system of directing and controlling" and the required governance practices will be defined by each individual organization. But, once in place, they will act as parameters for each business area and all management practices and activities must remain within the set boundaries.
H

olistic approach

VeriSM is described as a holistic approach to service management – understanding that service management cannot just sit within IT. The whole business is responsible for delivering its products and services to its consumers and so the business must work as one to deliver them.
I

ntegrated

VeriSM helps organizations to fit different practices and approaches together such that that they work in a seamless way for the organization. This integrated approach means that you can optimally use different practices, rather than being limited by a single approach, to help your organization to stay ahead of the game.
J

ackpot!

It will feel like you've won when you use the VeriSM model and see the difference it can make to your organization's service management capabilities. And the power of VeriSM comes from better understanding how many of the available IT, ITSM, and service management approaches can be blended to improve service delivery and support (and then business outcomes).
K

eep up to date

Because VeriSM is a model that integrates different approaches/practices, it can – and will – evolve to bring in new practices as they emerge. Your organization can therefore keep up to date in these rapidly-changing times.
L

ow-level activities (not included)

Lower-level activities such as defining processes and the activities conducted by each organizational area (IT, Sales, HR, Finance, etc.) are not included as part of VeriSM. These are produced by the organization itself – because they will depend on individual needs and capabilities.
M

anagement mesh

The VeriSM management mesh is defined as "the flexible framework that supports the VeriSM model and allows organizations to be responsive to their consumers' needs."

This management mesh helps organizations to understand which management practices might be best suited for it. The mesh can also flex and evolve over time so new practices can be welcomed instead of causing confusion and mayhem as circumstances change.
N

ew technology

If an organization feels threatened each time a new technology emerges, and by the need to understand and manage it, then VeriSM could be a welcome addition to its ITSM approach.

The VeriSM approach is designed with the digital transformation era in mind. This means that it's flexible and will evolve to keep up to date with new technologies. So, organizations can embrace the technological changes and follow the flow instead of tirelessly fighting against it.
O

utcomes

Service management should be focused on outcomes. And VeriSM helps organizations to focus on the creation of outcomes that work well for both business and consumer.

By ensuring a governance flow throughout the organization, creating an understanding of which management principles can work, and enabling the flexibility to evolve over time, an organization employing VeriSM is well placed to deal with both current and future service delivery challenges.
P

rocess development

The VeriSM model allows organizations to develop robust processes that allow their teams to work as they want. Although VeriSM doesn't directly get involved in creating organizational processes it does provide your organization with the ability to understand what can be done and where the limitations are. This means that individual teams can work flexibly to make their processes work for them rather than getting blocked by rigid process rules.
Q

uality services delivered

The model places a heavy focus on change control to ensure that solutions are designed, built, tested, and delivered in a controlled environment. There is also an emphasis on quality and meeting expectations.

VeriSM thus helps an organization to stop struggling with its priorities and to instead focus on delivering the quality services that it's capable of.
R

esponsibility and accountability

Within its governance system VeriSM ensures the guidelines and rules that are put in place by an organization are owned at the right level in order to be taken seriously by the rest of the organization.

Because service management is shared by all departments, there's the potential for these departments to design their processes to work for their needs without considering the needs of others or the wider impact. VeriSM proposes that ownership at the top level and responsibility and accountability within departments prevents this accidental or deliberate practice.
S

ervice management

VeriSM is deliberately a service management, not an ITSM, approach. It's important to recognize this.

That said, there's an awful lot of IT management best practice involved – which helps people to understand how different approaches can be blended to create the optimal solution for your organization.
T

-shaped employees

In the research stages of VeriSM, the creators recognized the growing need for "t-shaped employees."

There's less reliance, in IT these days, on simply having an area of expertise and applying that knowledge to whichever organization you find yourself in. Thus, a t-shaped employee has their individual niche, but they also have the ability to understand how that niche fits in with the organization as a whole. They have soft skills and generalist knowledge too which means that they can work collaboratively and effectively with others (both inside and outside their area of work).
U

nderstanding (and meeting) consumer needs

The consumer-focused approach of the VeriSM model means that organizations are better positioned to understand their consumers' needs from the get-go. And because consumers' needs are understood, a solution that speaks directly to these needs can be created and delivered.
V

alue-driven

The V in VeriSM stands for value-driven, something that sits at the heart of the approach.

VeriSM was created because people within ITSM began to realize that traditional ITSM best practice was not keeping up with new technologies and increasing customer expectations. Or the need for service management to span the enterprise.

The VeriSM approach can help organizations to make more-informed decisions and reduce costs by better understanding consumers' needs and delivering solutions in a controlled, transparent environment. The aim of VeriSM is to support service management in providing even greater value to your organization.
W

e've always done it this way!

This is one of the most detrimental ways of thinking for any organization, and it's what VeriSM wants to stamp out.

In the past, an aversion to change might have been the downfall for many companies but it's now even more important to be flexible, to adapt, and to grow.The need for digital transformation is here and any organization that isn't on board with the need to evolve (and not once but continually) is going to get left behind.
X

-ray

I might be resigned to using x-ray for all of my A-Z posts going forward but it definitely does work here!

By bringing all of an organization's service-providing departments together, the VeriSM approach creates a more transparent environment. The governance focus and management mesh used in VeriSM allows your organization to adapt as necessary but also uses boundaries to ensure control.

In particular, there's a flow throughout the organization and a feedback loop that ensure accountability across all areas. This means that you can see everything that's going on inside the body of your organization, you know, like an x-ray.
Y

our organization

Just because you've seen best practices work well in one organization doesn't mean that they will do the same for yours.

VeriSM helps you to see that your organization is unique, and has its own needs, which means that it needs its own processes and practices to achieve the outcomes it desires. VeriSM therefore works for you by helping you to battle through the potentially confusing environment of service management best practice to identify what will work best for your organization.

#VeriSM helps you to see that your organization is unique, and has its own needs, which means that it needs its own processes and practices to achieve the outcomes it desires. Click To Tweet
Z

ones

Technically VeriSM is described as being supported by three pillars. But I needed a word for Z, so I cheated and have turned those pillars into zones:
Governance – to make sure that there are rules and boundaries in place to control processes. And to ensure that your organization has people accountable for any and all outcomes
Service Management Principles – defined by the organization and shared across all departments, the service management principles show how an organization wants to deliver its solutions and what it stands for
Management Mesh – a flexible framework that supports the VeriSM model and allows organizations to respond to their consumers' needs.
These zones (OK, pillars) are what really shape the VeriSM approach and support the model in helping organizations to succeed in the digital age.
If you're interested in learning more about VeriSM, you can visit VeriSM.global or you can take a free online course and find out more about the VeriSM qualifications on the ITSM Zone website.

Posted by Joe the IT Guy
---