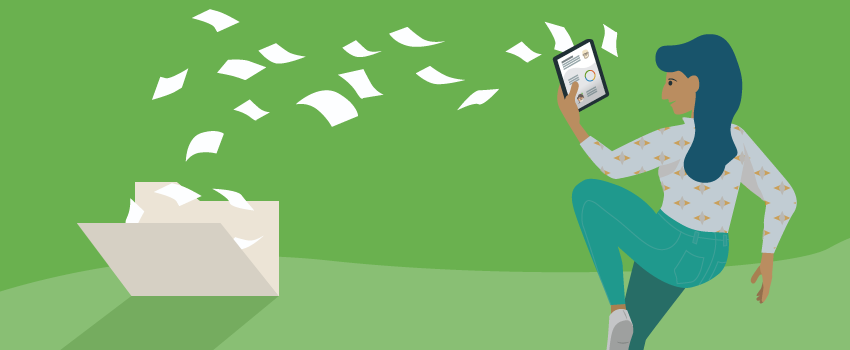 An A – Z of Digital Transformation
You've probably heard and read a lot about digital transformation in the last couple of years. You might already be in the midst of your organization's digital transformation strategy delivery activities. But, if you're still unsure about what digital transformation encompasses, then this blog is for you – because it's an A – Z of some of the key things that commonly make up digital transformation across new products/services, improved customer engagement mechanisms, and back-office improvements. With the need to make people, process, and technology change.
Still unsure about what #digitaltransformation encompasses? Check out this handy A-Z guide from @Joe_the_IT_Guy.
Click To Tweet
A

gile software development

"Agile software development is an approach to software development under which requirements and solutions evolve through the collaborative effort of self-organizing and cross-functional teams and their customer(s)/end user(s)." Its origins can be traced back to the middle of the last century, but something called the Agile Manifesto – which set out a better way to develop software – is considered by some to be the turning point that caused Agile to replace the traditional waterfall approach in many organizations.

The aim of Agile software development is to remove inefficient practices such as unnecessary documentation, time lost in inefficient (and possibly ineffective) meetings, and the limitations of bureaucratic processes.

You can read more about Agile in my A – Z of Agile blog post.
B

ig data analytics

Big data technologies allow organizations to collect and analyze immensely large data sets – helping them to spot patterns that they otherwise wouldn't see and to then act accordingly.

In particular, companies can use big data to gain a greater understanding of their customers' needs and behaviors, helping them to target customers with relevant content and producing the products and services that they really want. It thus supports both the new products/services and improved customer engagement elements of digital transformation.

Big data is also critical for effective machine learning – as machines "educate themselves" using vast amounts of data, learning from the trends and patterns, and teaching themselves to become more accurate and relevant as time goes on. And as organizations seek to streamline processes, increase customer satisfaction, and work smarter, the adoption of machine learning in business will grow.
C

ulture is important

The success of digital transformation doesn't solely rest with new technology deployment, but rather an infusion of new technologies in the context of an organizational culture that embraces change, centralizes customers, and works holistically rather than in traditional siloes.

The right organizational culture will be the difference between success and failure in the digital age. When we look at organizations who've already invested in a digital transformation and have failed, it's usually due to a high expectancy that technology will resolve their pain points and a low expectancy that business culture plays any kind of role in the transformation. This simply isn't true – without an appropriate culture in place, ready to adopt emerging technologies and new ways of working, organizations could end up with the best tech in the world, but it will always fall short of expectations.
D

eeper insights

Because new technologies allow organizations to collect more data than ever before, companies can now get much deeper insights into areas such: as customer behavior, finances, and operations.

Using analytics to explore their data, organizations have the power to manage performance effectively and strategize more accurately. Importantly, these deeper insights, into how their organization is performing, allow business leaders to make data-led decisions – removing the guesswork and increasing their proactive capabilities.
E

ffective and efficient

Digital transformation strategies should focus on improving "how things are done" and the resultant outcomes – making the likes of processes, activities, and services more effective and more efficient.

Thanks to (successful) digital transformation, projects are being delivered faster, work activities are becoming more streamlined, services are more personalized, and systems are more secure.

In particular, digital transformation is allowing organizations to shed many of their traditionally-manual practices (eliminating costs, wasted time, and human error) and is improving efficiency and effectiveness (increasing consistency and accuracy).
F

ocus (on what's important)

One of the key factors in digital transformation success is "focus." Ideally, start small and focus on one business area to transform – then get it right and learn from any mistakes before progressing to another area.

Unfortunately, a common mistake that organizations make is to try to transform everything at once which, in most cases, is only going to lead to chaos.
G

rowing need (for the ease of digital services)

People like digital and its usage in everyday life is growing. Whether it's online video-streaming services like Netflix, technology-assisted transportation options like Uber, or smart home devices that turn on the lights when someone arrives home, digital is making lives easier and people only want this to continue.

Consumers now want on-demand services, they want personalized experiences, and they want it all at the best price. It's so easy, these days, for consumers to drop their current service providers in an instant should something better come along (or if they experience bad service).

So, make sure your organization is reacting to this growing need. Ultimately, if organizations don't get on board with digitalization, then they'll likely lose out to competitor companies who have embraced the change.
H

appy customers

We've just explored the growing need for digitalization, the primary driver being the consumer who wants an efficient, personalized experience. Some would also add that customers want it to be frictionless.

Industry research is showing that traditional methods of conducting business cannot keep up with the demands of the modern customer, and only new technologies (and digital transformation) can help them to do this. Thus, if businesses neglect to transform how they operate, it's easy to see how they'll begin to lose customers to more-advanced businesses.
I

ntegrations are important

Integrations of your organization's various systems is a seriously important aspect of digital transformation to consider. There's probably already a lot of different systems, service-based solutions, and devices to handle, and lots of data and information to manage between them. Pulling this all together, to have the right information available to all users whenever they need it, is where the criticality of integrations and application programming interfaces (APIs) come in.

A major reason that organizations face unexpected challenges during digital transformation is because of something that was not considered – with the integration of systems certainly one of those culprits.
J

ourney (not destination)

Digital transformation is an ongoing journey rather than a project that can be designed, implemented, and completed in a finite time frame. Importantly, it shouldn't be viewed as something with the end in sight because business situations will change, and further improvement opportunities will arise. Plus, new technologies will continue to emerge, and organizations must be flexible and able to evolve as technology evolution progresses.

Adjusting to the mindset that digitalization is a continual journey is part of the cultural change I mentioned earlier. Here, organizations must be prepared to embrace the need for rapid change and understand that processes and services can always be improved.
K

nock down barriers

There are a number of barriers that prevent organizations from embracing digital transformation. There's the lack of a digital mindset I've already mentioned, but there are also other barriers that can prevent a digital take-off.

These include a lack of suitable skills (employees might not be prepared), legacy systems (more on these below), a lack of funds, limited knowledge-sharing and collaboration, or simply a lack of vision from the organization.

Ultimately, these are the kinds of barrier that will need to be explored and removed for digital transformation to be successful.
L

egacy systems

Legacy systems are often outdated systems or technology that's still in use, and they carry with them a number of limitations that can hinder digital transformation efforts.

For instance, the cost of operating legacy systems may increase due to the fact that they're no longer catered for in terms of easily-available skills and resource, or vendor support. Then they carry security concerns because security patches are not regularly available, and they often don't easily integrate with new technologies. Not to mention the workforce shortage – because people involved with these systems leave and new intakes don't have any experience with these older systems.

The Logicalis 2017-18 Global CIO Survey found that 44% of CIOs see legacy systems as the biggest barrier to their digital-transformation efforts.

However, successful digital transformation doesn't mean immediately replacing everything with new and improved technology, it's more about balancing new technologies with existing IT infrastructure. Legacy systems can work alongside more-modern technologies as long as they're factored into the transformation strategy.
M

anagement capabilities

While technology is a strong factor in the transformation to a digital business, the real ability to succeed lies in the management of the organization. Strong leadership is crucial for changing behaviors, motivating employees, and making those crucial decisions that will drive the transformation forward.

Management attributes required for successful digital transformation involve: risk-taking, honesty, an attitude of continued learning, and an agile way of working. Alongside this, managers must be able to motivate staff – encouraging them to challenge ideas and collaborate.
N

umbers are very important

No, this isn't a biblical reference.

The ability to measure how things have changed, ideally for the better, is a critical part of digital transformation. (This could have been M-for-metrics had I not needed to mention the importance of strong and effective management.)

So, ensure that you've identified a focused set of critical success factors and key performance indicators – as well as baselining the status quo and setting realistic targets – before starting out with your transformation efforts.

Your digital transformation success will ultimately be viewed in terms of "improving the numbers." Whether these are numbers related to:
Revenues and profit
Customer satisfaction (or experience)
Customer retention and growth
Employee satisfaction
Operational cost reduction
Increased market share
Stock price elevation
Or other key business metrics.
O

rganizational change management

Organizational change management (OCM) is a methodology that focuses on the people side of change.

As I've already stated, creating the right culture is imperative for digital transformation to be a success – but cultural changes are not at all easy to deliver. This is where OCM can help, because it's specifically designed to help organizations prepare and coach their people for big changes to the organization.

People tend to fear change because the status quo is preferable to the unknown (even if the status quo isn't that great). OCM helps organizations to remove psychological blockers and create an environment that encourages and embraces change.

You can read more about OCM in my "What's Organizational Change Management and Why Should ITSM Pros Be Bothered?" blog post.

Organizational Change Management can aid #digitaltransformation as it helps organizations to remove psychological blockers and create an environment that encourages and embraces change. Click To Tweet
P

eople

Talking of people, this was the first word I wrote when brainstorming the alphabet-letters for this blog post. Why? Because people are ultimately what make digital transformation succeed or fail. I can't stress this enough, technology is important sure (that's pretty obvious, right?), but it's people that are going to make or break this.

Digital transformation needs people with the right mindset, the right attitude, the right vision, and the right skills. If leaders aren't strong and the workers aren't on board, the organization's digital transformation strategy is just waiting to sink.
Q

ualify for survival

Digital transformation is all about changing your organization for the challenges (and opportunities) of both today and tomorrow. Think of it in terms of Darwinian evolution and the survival of the fittest.

So, how is your organization transforming itself to both survive and thrive?

The other day I read an interesting statistic, that: in 1958, corporations used to stay on the S&P 500 for 61 years, by 2011 that number was down to 18 years, and today? The latest projection I've seen is that this will be just 12 years by 2027, and there are no prizes for guessing what's caused this – changing with the times. It's a definite pointer for the need for organizations to evolve with the times and, in doing this, to qualify for survival.
R

emote working

Digitalization, plus other factors, is changing how we work. The 9-5 days are no more, and the long rush-hour commutes are slowly disappearing, as more and more organizations are introducing remote working and flexible hours.

Modern employees want to work when they want and where they want, you need only look at America's freelancing statistics to see this. 36% of workers in America freelanced in 2017 and an American freelancing survey predicts that over half of the US workforce will be freelancing in less than 10 years if this trend continues.

New technologies allow people to work anywhere in the world, using collaborative tools such as video calling software (Zoom), collaboration hubs (Slack), instant chat (Skype); and thus, work colleagues can be in all corners of the globe yet still work together as though they're merely feet away.

This is what the future of work looks like, and organizations that don't get involved with the transformation will fail to retain the great employees they already have or attract new talent into their fold.
S

ecurity

Although new technology brings us lots of advantages, there is of course a downside to it which comes in the form of security and the protection of data, operations, and financials.

Security needs to be a top priority for everyone using technology, which – let's be honest – is basically all of us nowadays.

It's predicted that cyber-attacks on mobile and Internet of Things (IoT) network-connected devices will continue to grow as the use of these technologies become ever more popular. In fact, in 2017, out of 850 businesses surveyed 100% of those with more than 500 mobile devices were attacked at least once.

Plus, in Gartner's 2019 CIO Agenda report 95% of survey respondents believe that security threats will increase. With the main takeaway being that organizations must be aware that IT alone cannot be responsible for cybersecurity, and that they need to "educate the board and senior leadership on how to think about and take more responsibility for cybersecurity risk."
T

ransformation

OK, it's somewhat of a cheat for a digital transformation blog.

But digital transformation should be looked at as exactly this. Transformation.

It isn't simply about replacing manual processes and activities with automation. Instead, it's about transforming what's currently "done" into something better. It's about using technology – and new approaches to work – to completely transform services and operations, plus the customer experience.
U

niqueness

Digital transformation gives people the opportunity to indulge in personalized experiences, and that's what we – as customers – want, right? To be treated like an individual and not just a number. To feel like we're cared for and appreciated as a customer.

We as customers are driving this change, and technology is enabling businesses to provide what we want. According to Accenture, "33% of customers who abandoned a business relationship last year did so because personalization was lacking." I can only see that figure growing as new technologies, such as artificial intelligence, enable increased personalization.
V

ision

A digital transformation project will fail if it doesn't begin with a vision.

Leaders must be able to create a vision of what they want digitalization to accomplish, and then they need to be able to communicate that vision to get their people excited for what's to come.

Without such a vision there's nothing to sell to those who need to be "on board," there's nothing to focus on to get started, and there's no way of creating a strategy because there are no goals to head towards.
W

orkforce enablement

Workforce enablement is all about creating a working environment that works for your employees as well as your external customers.

I've written a lot in this blog about: how customers drive the need for digitalization, how organizations will only survive if they're giving customers what they want, and how digital technologies will enable companies to offer the best customer experience.

But, if internal, back-office operations are neither fit nor prepared for new technologies, or the changes that digital transformation will bring, then the organization will either fail or at the very least, won't see the expected outcomes and benefits from the front-office technologies that they've been invested in.
X

XI

This is 21 in Roman numerals, to represent the year 2021. Yes, it's a stretch (and another cheat on my part), but here's an interesting digital transformation statistic for you. According to IDC in December 2017, by 2021 spending on digital transformation is predicted to exceed $2.1 trillion!

Can you believe it? I certainly can – and hopefully it's enough to make you question either why your organization hasn't started to deliver against a corporate digital transformation strategy or if it has achieved enough (transformation) so far.

And IDC has probably upped its prediction in the last twelve months!
Y

esterday's news

It's sad to say it, but it's true for most organizations – if digital transformation isn't on the corporate agenda, then they'll soon be yesterday's news.

A 2018 Gartner survey states that: "Survey respondents [CEOs] were asked whether they have a management initiative or transformation program to make their business more digital. The majority (62%) said they did."

Over half of the organizations that took part in this survey have already started making progress with their digital transformation. Have you?
Z

izz

Phew! This was a long blog. Zizz, which means "to nap," is what you might want to do now that your head is buzzing with so much information. It's definitely where I'm off to after writing this.

So, that's the alphabet complete. If you have better options for any of my digital-transformation A – Z, then please let me know in the comments.

Posted by Joe the IT Guy
---