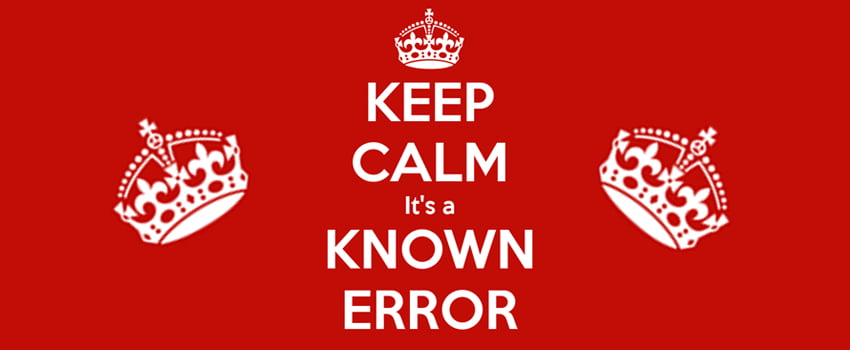 5 Reasons Why Your Organization Needs a Known Error Database
A known error database (KEDB) is a place for your organization's IT department to store all of its "known errors."
"Known what's?" I hear you saying. So before I get into the benefits of having a KEDB, let's take a look at known errors themselves – what are they anyway?
Known Errors Sit with Problem Management
ITIL says that a problem is: "the cause of one or more incidents" – even when the cause is unknown. And if it is unknown, then once the root cause (of the problem) is established, and a workaround has been found, the problem becomes a 'known error.'
"What's a workaround?"
So many ITIL terms, I know! A workaround is a temporary fix, one that you can use to resolve a reported incident but it's likely that more incidents will be logged because the root cause is still out there wreaking havoc.
Let's say your IT service desk is receiving calls from end users because they cannot access the internet. Your service desk agents troubleshoot the issue and find that when end users switch from ethernet to Wi-Fi they're able to browse just fine. Thus, your IT network team looks into the issue and finds that the DNS settings are incorrect and will need to be fixed.
Here a known error is logged and might look something like this:
Problem
Workaround
Root Cause
Known Error?
Unable to connect to the internet over the wired network
Connect to Wi-Fi
DNS settings are incorrect
Yes
(because we have a workaround and a root cause)
Now that we are clear as to what known errors are, let's take a look at 5 reasons why introducing a KEDB will help your organization.
1. Quicker Incident Resolution
With a KEDB, your IT service desk agents are able to resolve incidents quicker. Why? Because when a new incident is reported they can consult the KEDB to see if there is already a fix available.
This saves them from having to individually troubleshoot every incident that comes in. And if the incident is part of an already recorded known error, then the agent can immediately apply the fix. They can also advise the affected end user that this is a known issue and people are working to resolve it. This will also give your customers peace of mind, knowing that the problem will (hopefully) soon go away forever (particularly if they've experienced it multiple times already).
2. Deliver Consistent Support
Having a KEDB for your service desk agents to check means that each one of them will be able to offer the same level of IT support. And because working on the IT service desk is sometimes an entry-level role, you're highly likely to have agents with various levels of knowledge and skill. Here, a KEDB means that your newer staff members are able to offer the same level of support for such incidents because the fixes are documented for them to follow.
Inconsistent support from the IT service desk can be a big factor in low customer satisfaction (CSAT) scores, so it pays to find ways to tackle this.
3. It's Easier to Monitor and Prioritize Issues
When you have a KEDB you can link up each incident that comes into the desk related to the known error. This means that you're able to monitor the reach of the problem which, in turn, can help you to prioritize which problems need to be fixed first. For instance, those that have a high number of incidents attached, and therefore impact, can be submitted for fixes sooner than those causing only a couple of calls to the desk.
4. Incident Ticket Prevention
Sometimes the workarounds provided for a known error are easy to apply and end users are able to action it themselves. When this happens, you can let your customers know that your IT teams are working on the issue but in the meantime, should they experience the problem, they can fix it themselves to prevent any disruption.
When your IT teams are already working on the fix you won't need to worry about tracking the impact of the problem, so it's better to prevent these calls from coming in in the first place whenever possible.
5. Create Happy Customers (and Agents)
Because you're offering consistent support, applying quick fixes to reported incidents, and empowering end users by giving them the opportunity to fix their own issues, you're likely to see improvements in your CSAT score.
Along with happier customers, your agents will be happier too because a KEDB can make their life so much easier. They don't have to troubleshoot the same incidents over and over again, and they can provide a level of support that makes them feel good because they know they're helping to deliver a great IT support service.
Bonus Points
For a KEDB to be effective it must remain up-to-date and should include as much information about the known error as possible. In this way the KEDB offers the potential for your IT organization to gain some control around the IT incidents coming in – allowing your teams to prioritize and fix incoming problems as a whole instead of wasting time fixing things incident by incident. It's a bonus reason (number 6): using a KEDB is saving your IT service desk, and organization, time and money in support costs too.
Do you already use a KEDB? If so, what other benefits do you receive from its use?

Posted by Joe the IT Guy
---