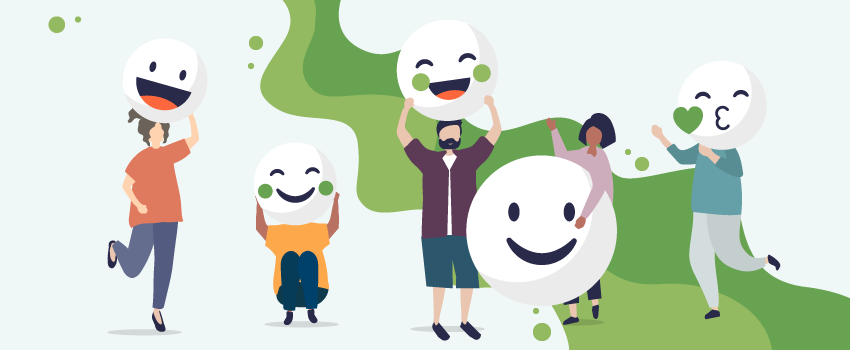 ITSM Basics: 5 Ways to Improve Your End Users' Self-Service Experience
Self-service on the IT service desk is no longer a new concept – with 70-80% of IT service desks having implemented some form of self-service technology. Most IT organizations know that to thrive, and perhaps survive, as an IT support function the employment of self-service capabilities will help to reduce costs, speed up support, and deliver a better end-user experience. Plus, of course, help to reduce the pressure on overworked IT service desks.
But, there's a big difference between using self-service and using it well.
The Common Issues with Self-Service
Your IT organization's main aim with self-service will probably be to reduce tickets and incoming contacts, whether they be by email or phone, while still delivering an outstanding customer experience. However, one of the major complaints I hear from IT service management (ITSM) professionals is that self-service just isn't working for them in the way they expected it to. In fact, it might be causing more issues than it's solving.
If you want to know more about the common barriers to IT self-service success, then I suggest reading "Everything You Wanted to Know About IT Self-Service but Were Afraid to Ask" by Sarah Lahav (this blog also has some helpful tips to getting self-service right).
In my blog post now, however, I want to explore 5 ways to improve your end-users' self-service experience based on the common themes that have been identified in reviews of underperforming self-service initiatives.
1. Make Your Service Desk Agents Visible
A common mistake that some organizations make is trying to force end users to only use self-service – and, in doing so, making it difficult for them to find actual agents to help them.
If you haven't yet started your IT self-service initiative, then here's a note of caution – your end users will probably get annoyed if you take this approach.
To improve the (self-service) experience, you need to make your agents easy to contact. They shouldn't be hidden behind self-service, they should work alongside it.
Consider this: If an end user knows that a few quick seconds on the phone (to an agent) will resolve their issue, then they don't want to be forced to go via self-service capability answering unnecessary questions, and waste time, just to get access to a real person.
In my experience, most of the time end users actually want to resolve their own issues and – if it's an easy and quick experience – will be happy to use self-service without it being forced upon them. And having the option to easily contact an agent, if self-service isn't doing the trick, is going to make their experience a far happier one.
2. Tell Your End Users "What's in It for Them"
One of the common issues with self-service initiatives is that the technology gets implemented and then organizations just expect their people to simply get on and use it.
This isn't ever going to happen for a variety of reasons – maybe the end users don't know about it, maybe they don't know how to use it, but what's highly likely is that they haven't been shown why they should use it.
This "What's in it for me?" syndrome is big these days and you need to give your end users a reason to make the change in their way of working.
Some example reasons as to the "What's in it for me?" are:
The ability to resolve your own issues and get a speedy solution
Reduced waiting times versus calling in to either log a ticket or to receive a real-time solution
Tickets logged via self-service are picked up faster (this would need to be a local operational policy)
That information needed now is available immediately
What then needs to happen is for your IT service desk to consistently demonstrate that these claims are true. It must ensure that the tickets are picked up faster, that the knowledge base is up to date (for self-help), that it's quicker to use self-service (than to call or email), and that end users can indeed resolve many of their own issues.
Sadly, making these claims when your organization isn't set up to handle them will only result in dissatisfied users and complaints, and potentially that your IT service desk will gain a bad reputation.
3. Collect and Review Your Self-Service Usage Data
Regularly checking your usage data is really important for self-service. Like many things it needs attention, and resulting actions, to be the best it can be. This means that your IT service desk needs to consistently collect and review data to help you understand what's working well and what's not.
It might be that you have lots of content that no one is looking at – your review should investigate whether this needs to be retired or updated to include more relevant information (given that related calls are still being received by the IT service desk). Alternatively, you might have content that's used a lot. In these cases, see what you can learn from this and how to mirror the traction across all your knowledge articles.
Your review will also want to focus on which end user types are adopting self-service and which are shying away – and with this understanding you can then work on how to get the latter on board.
Also look at which issue and request types are consistently being phoned through – is there some way that self-service can handle these?
Your organization's data will be changing all the time, so it's important to schedule regular reviews, and ensure that they are completed, for continuous improvement of the self-service capability and the delivered customer experience.
4. Give Your End Users What They Need (and Expect) from Self-Service
End users will expect a self-service capability that delivers against their needs for either:
Immediate help, or
The creation of a ticket that gets a swift resolution by service desk personnel.
In terms of the former, providing self-help content that's outdated will drive your end users away from self-service – they will lose confidence (in the capability) and won't come back to it for other issues. Likewise, if your offered-up content is not relevant to end-user searches, then they're again not going to make any future efforts to use self-help.
Another downfall for organizations is when self-help content is inaccurate or cannot be easily used by end users to resolve their issue. Remember that your end users don't use the same language as your technical support staff. Nor do they have the same permissions – so if you're giving them documentation that asks them to make adjustments that would require an admin login, then they're just going to end up calling the IT service desk anyway (and now they'll be more annoyed because they've wasted their time).
In terms of the latter, it's important to demonstrate that self-service ticket logging isn't the third-class resolution route after telephone and email (and perhaps chat and walk-up). If this is the case though, or even just perceived as such, then why would end users choose to use self-service and its sub-par service and customer experience?
5. Make Your Self-Service Capability Easy to Access (and Fast)
Your self-service capability needs to be really easy to access – easier than sending a quick email, or picking up the phone, to the IT service desk.
Your end users are busy people – like you – and are probably looking for the quickest solution/route for every task they have. Ultimately, if you over-complicate self-service, then it isn't going to get used!
It also needs to be perceived as fast. From page refresh times, through use (including data capture), to the overall time to resolution. After all, we all live in a world where we can click a button and get the information we want (thanks Google!) and your IT self-service portal needs to be offered and run in the same way if you want to avoid impatient end users becoming agitated and "losing faith." Ease and speed (of use) are crucial elements of a happy customer experience – for both IT self-service and every other IT support channel.
Ultimately, self-service is all about your end users – rather than your IT organization as a service provider – and thus the self-service journey should reflect their needs and wants. Unfortunately, too many IT organizations build their self-service capabilities to serve their own needs, which results in a poor customer experience and consequently a lack of engagement and realization of its potential benefits.
Please use these 5 tips to enhance your organization's self-service capabilities by improving the customer experience. Plus, please let me know, in the comments, of any other self-service-related advice for readers.

Posted by Joe the IT Guy
---