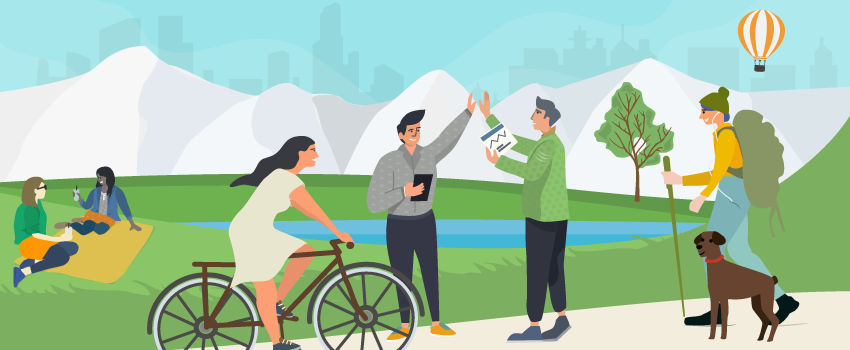 Working in IT: 10 Tips for Better Workplace Wellbeing
Mental health and wellbeing have become popular business-media topics in recent years and I'm really pleased to see that this focus has spread into IT and the IT service management (ITSM) community. However, the conversation and focus on IT employee wellbeing is only the beginning. Now we need to start taking action.
SysAid recently sponsored a survey conducted by ITSM.tools and their "The Future of ITSM 2019" report found that "just over half of respondents feel that working in IT is adversely affecting their personal wellbeing." It's a very real problem and the responsibility to turn this around rests heavily on employers, after all, if you don't have a happy, healthy workforce then your organization is going to have a tough time meeting its goals.
Here, @Joe_the_IT_Guy shares a list of ten tips for improving employee #wellbeing in the workplace.
Click To Tweet
But what can organizations do to ensure that working in IT doesn't put a strain on an individual's wellbeing? To help I've compiled a list of ten tips for improving employee wellbeing in the workplace (oh and FYI you may also be interested in reading my ten tips for managing workplace stress).
1) Create a standalone wellbeing strategy
Having a wellbeing strategy in place shows your employees that you take their health and wellbeing seriously and it enables your organization to offer a consistent support experience to all staff members.
A 2018 report from the CIPD (a professional body for human resources (HR) and people development) titled "Health and Wellbeing at Work" found that "organizations with a standalone wellbeing strategy tend to take a fairly holistic approach, promoting all aspects of employee wellbeing (particularly physical health, mental health, and good lifestyle choices)." So, having a strategy can help organizations to focus on wellbeing as a whole, offering support to all individuals rather than focusing on one single group. For example, wellbeing is often confused with mental health so physical health, lifestyle choices, social connections, etc. fall by the wayside.
Further to this, the report also found that organizations that had a standalone wellbeing strategy were more likely to report that their "organization's health and wellbeing activity has had positive results in the last year" which provides proof that these really can work. In fact, 44% of respondents said that employee morale and engagement has improved and 31% reported lower sickness absence.
Organizations might jump on the bandwagon of wellbeing initiatives without really considering the real needs of their people. Free fruit in the office is great but wellbeing goes far deeper than this and if you're not promoting healthy living through your company values and actions, then these kinds of efforts will not produce the results you want (and need).
2) Get line managers involved
Having a wellbeing strategy isn't going to be enough if your management team aren't onboard with improving employee wellbeing. Managers are in a key position to influence their people's wellbeing and can often have a negative impact without realizing it simply because they're not prepared to deal with the "people" part that comes with managing a team.
The CIPD report referenced earlier shows that "health and wellbeing activity has more positive outcomes where line managers are bought in to the importance of wellbeing." But, less than half of the respondents said they have a supportive line management style that treats people as individuals, and people were more likely to disagree than agree that managers in their organization have the confidence and competence to identify and support mental ill health.
The report from ITSM.tools also found a strong correlation between appreciation (from management) and wellbeing. Of the 55% of respondents who said that working in IT is adversely affecting their personal wellbeing, 75% of them also reported feeling undervalued in the workplace. Managers need to be more switched on to the feelings of their team members, but this can only happen if they themselves are engaged and onboard.
If you don't help to prepare your line managers, the rest of your wellbeing strategy is in danger of crumbling down around you. Not only does their inability to deal with people issues affect employees it also puts your management team under a lot of unfair pressure to deal with wellbeing issues without being properly trained to do so.
3) Create a transparent environment (both externally and internally)
A negative aspect of culture that's often seen in the workplace, particularly in highly-corporate organizations, is working on a "need to know" basis. This is where information isn't passed down to lower-level employees because the management team doesn't feel that they need to know it in order to do their jobs.
This.is.maddening.
In my experience, this kind of culture generally has the opposite effect on staff who, instead of getting on with their work, feel like they're not trusted and spend time creating rumors about what may or may not be going on. I'm not suggesting that everything needs to be shared, and I, of course, understand that it can't be, but I've seen staff getting upset over rumors (heard on the grapevine) which could have easily been prevented if the leadership team had been a little more transparent.
4) Focus on outputs
And talking about trusting employees, let go of the clocking-in and clocking-out culture if you're still there. The time has come to focus on outputs – what is it that your employees are doing for the organization, not how many hours they're sat at their desk.
A 2018 study by Bupa UK found that 53% of employees identified trust as a primary reason to stay or leave a company, with a quarter of individuals having left their workplace due to a lack of trust. By focusing on the outputs of individuals and teams, and not on micromanaging their every move, organizations can instill a level of trust in their employees that's vital for wellbeing and staff commitment.
Does it really matter that individuals aren't chained to their desk for eight, nine, or more hours a day if their outputs are hitting the mark?
Let go of the clocking-in and clocking-out culture if you're still there. The time has come to focus on outputs – what is it that your employees are doing for the organization, not how many hours they're sat at their desk.
Click To Tweet
5) Introduce flexible working
In line with trusting employees and measuring their outputs, another great move towards positively impacting the wellbeing of your IT staff is to introduce flexible working.
Flexible working can mean employees choose their own hours, or their own location to work from, or both. Technology has removed the need for people to work from the office giving them the choice to work when and how they want. This can make people feel more engaged with their work and more committed to their employer. One study on flexible working by the New York Times found that "those who spent 60-80% of their time away from the office had the highest rates of engagement at work."
But it's not just about getting more engagement. Your IT employees are people too and each one of them has their own individual needs. Whether it's spending time with family, reducing time spent on the daily commute, managing a mental health illness, making room for more "me" time, or any of the other endless reasons staff might wish to work flexibly. Putting their needs first is essential for enhancing their overall wellbeing.
When people have more control over their working lives, they feel happier, are less stressed, and are more productive. Not only is it a win for personal wellbeing it's also a win for the organization which is rewarded with a harder working, happier, more dedicated workforce.
6) Offer easy access to counseling services
As an employer, you're not expected to be able to resolve all of the different kinds of people issues that come your way. That would be silly. You are, however, expected to recognize that people will experience problems and offer as much support to employees as best you can.
Providing counseling services that are easy to access shows that you have your employees' wellbeing in mind and are dedicated to helping them. There are different types of counseling available – some organizations choose to have a counselor visit their offices; others provide access to telephony counseling services. These days there's more demand for digital counseling services too and live chat is a popular option for younger people and those who are nervous to visit a counselor in person to begin with.
Whichever option your organization chooses, it's important that you promote the service to your employees. If they don't know that it exists, then they're not going to use it. In their article "Managing Workplace Stress and Wellbeing," the Institute of Leadership and Management spoke to Jayne Carrington, managing director of Right Management Workplace Wellness, who said, "information about these services is often poorly communicated." She goes on to advise that this promotion has to come from managers (and this supports my earlier point that managers need to get on board).
7) Provide access to workplace wellbeing activities
One of the best ways to really prove to your employees that you care for their wellbeing is through giving them opportunities to look after themselves. It's not enough to just tell them what they should do if your organization isn't living that way itself. One way to demonstrate your commitment to employee wellbeing is to offer workplace wellbeing activities such as yoga and meditation classes. IT professionals spend a lot of time at their PC which we all know can be bad for our health. Yoga is great for getting people moving and alleviating symptoms caused by sitting such as lower back pain.
And, if you work in IT, you're probably pretty aware that a lot of us have suffered (or do suffer) from burnout. The pressure on folks in IT is immense as customer expectations continue to grow and business needs become more demanding as a result. The bad news is that the future looks grim with 84% of respondents in the ITSM.tools survey believing that working in IT will get harder over the next three years. And guess what – research also shows that those who do yoga on a regular basis are less at risk of being exposed to the warning signs of burnout!
8) Create the right environment
The environment in which your people work can have a big impact on their wellbeing, and it will depend on the organization and the individuals within it as to what kind of layout and color scheme would work best. Two important factors that can really brighten up any office, however, are plants and natural lighting.
Plants carry many benefits – they can reduce sickness, improve productivity, reduce stress, reduce noise levels, and increase creativity. They make the office a more attractive environment to work in too. In short, they're pretty magical. This might all sound a bit far-fetched but there are plenty of studies out there that support these claims.
We all know that plants clean the air by absorbing carbon dioxide but they can also remove chemicals like benzene, trichloroethylene, and formaldehyde – which results in cleaner air for us to breathe. It's a discovery made back in the 1980s by NASA scientists who were trying to find ways to clean the air in space stations. And a 2015 report by Human Spaces found a 15% increase in creativity in individuals who were exposed to plants in their workplace over those who weren't. The same report showed that such offices reported a 15% higher wellbeing score than those that did not have natural elements in place.
Natural light is also incredibly important for people's wellbeing and can greatly affect how they feel. It helps people to stay more alert and energetic which is good for wellbeing and, as an added bonus, means they're more productive. In a recent Leesman study (the largest employee experience database in the world) almost 72% of respondents said that natural light was important to them in the workplace.
The act of creating the right working conditions for your IT staff shows them that you care about them as people which is fundamental in boosting their wellbeing.
9) Encourage movement
Carrying on with creating the right environment, it's important to look after your employees by providing them with adjustable desks and chairs and educating them on the importance of an ergonomic setting. However, organizations should go further than this and would be wise to encourage staff to move, stretch, and rest their eyes to prevent eye-strain.
Research shows that sitting or standing for long periods of time isn't good for our long-term health and, although most of us are pretty aware of that by now, it can be easy to forget to take a break when absorbed in your work.
Promoting the 20/20/20 rule is a good idea, particularly for IT professionals who can spend large amounts of time staring at a screen. This states that individuals should rest their eyes every 20 minutes for 20 seconds and look at something at least 20 feet away. This can help reduce eye strain, eye dryness, and headaches, all of which are physical issues that negatively affect a person's health and wellbeing.
By getting up and moving around employees can reduce tiredness and the risk of desk-based injuries such as bad necks and backs. When we're considering the wellbeing of our staff it might seem trivial to be simply encouraging movement, after all, aren't there much bigger problems going on? Although it's important to consider and support the larger issues such as mental health illness it's through these smaller acts that we demonstrate that the overall health and wellbeing of our staff is important and taken seriously.
Employers need to become proactive in their wellbeing strategies rather than simply reacting when their people begin to experience problems. It isn't enough to promote wellbeing; you've got to make it your culture if it's really going to work.
Employers need to become proactive in their wellbeing strategies rather than simply reacting when their people begin to experience problems.
Click To Tweet
10) Promote healthy eating (and make it easy for employees to choose healthy options)
Healthy life choices, like eating the right things for our bodies, make up a big part of our overall wellbeing. Part of your wellbeing strategy should include the promotion of healthy eating to help your staff make the right choices.
This is another thing that most of us know already – eat healthy food and feel better. But many organizations make it difficult for staff to do this by either not providing enough options in the canteen or not providing clean areas for individuals to prepare their own meals.
It won't be enough to just provide fruit bowls; you need to promote and educate your people on the importance of healthy eating too. Provide nutritional guidelines, explain the benefits, and show statistics on the impact of junk food. Launch healthy eating campaigns to encourage staff to get on board. And make it easy to access good food by making it available on site when possible and providing a clean space for staff to eat in.
Now it's over to you, does your organization have a wellbeing strategy? Have you seen positive results from it? Or are you planning to get started soon? Please let me know in the comments.

Posted by Joe the IT Guy
---