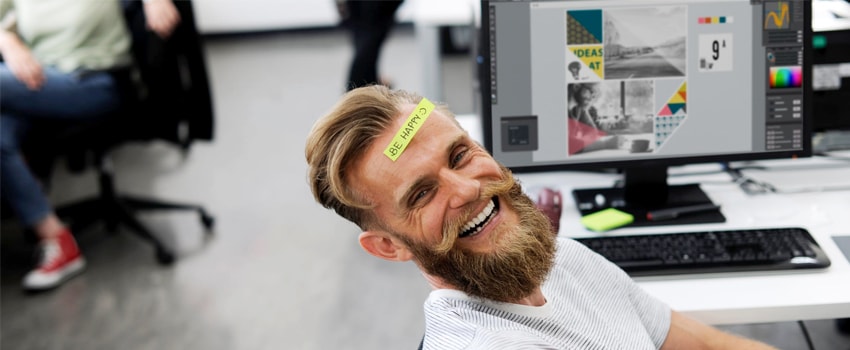 Why Is IT Service Desk Staff Morale Finally Important?
Does your IT organization measure staff morale levels, particularly IT service desk morale? The latest Service Desk Institute Benchmarking Report shows a massive jump in employee survey use – the question is: Why? And then: What is your organization doing?
There has been a lot written and discussed lately about user/employee experience – the internal perspective of customer experience (CX). Much of this, however, has been focused on the end user (or customer), neglecting the fact that the expectations and morale of IT staff are important too.
It's a strange dichotomy, many IT service management (ITSM) and service desk articles and presentations will talk to the importance of the IT service desk (and the people that make it tick). And this has been happening for as long as I can remember. Yet, service desk staff are often undervalued (and underpaid) while being overworked and over-scrutinized (with the latter thanks to the usual plethora of service desk metrics).
And, unfortunately, there has been little to suggest that one of the most-used of Sir Richard Branson's leadership quotes has been paid attention to in the IT support world:
"Learn to look after your staff first and the rest will follow."
Which is often coupled with the similar:
"Happy employees = happy customers."
There's Good News Though
The recent Service Desk Institute (SDI) Service Desk Benchmarking Report 2017 shows a sudden hike in the number of organizations that are measuring service desk staff morale.
Does your service desk carry out regular staff morale surveys?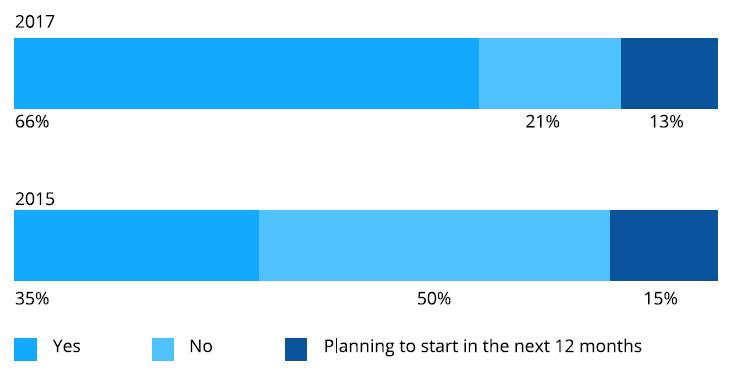 Source: SDI, Service Desk Benchmarking Report 2017
Please note that SDI members are predominantly based in the UK, but still this is showing a nice trend for those of us even outside the UK.
The SDI report states that:
"There has been a significant increase in the proportion of respondents who have identified that their service desk carries out regular staff morale surveys. Since 2015, this statistic has risen by 31%, signifying that more service desks are potentially realizing the benefits of staff morale surveys. Correspondingly, the proportion of service desks that do not carry out regular staff morale surveys has reduced by 29%."
And, while the quoted stats are great as is, looking at the growth and decline levels differently – with 2017 as a percentage of the 2015 scores – we get a far more significant change:
The number of service desks that conduct staff morale surveys has increased by 89%, and
The number of service desks that don't conduct staff morale surveys has decreased by 58%.
Which makes the change (in staff survey use) stand out as even more significant!
But This Hasn't Been a Gradual Thing
When you look at the 2015 and 2017 figures in isolation, it might be expected that this is a gradual increase in staff-morale survey use. But the SDI report also includes the related figures going back to 2009:
Does your service desk carry out regular staff morale surveys?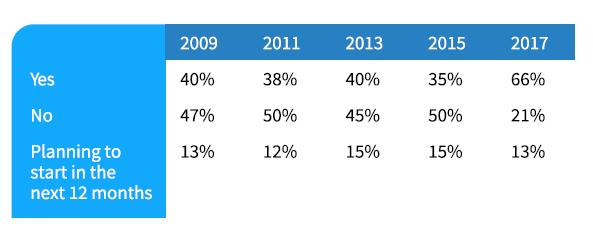 Source: SDI, Service Desk Benchmarking Report 2017
With this data showing that no more than 40% of service desks had previously conducted staff morale surveys – 2015 being the lowest year at 35%.
Thus, there has been a sudden change of service-desk thinking – a dramatic step change – with, one assumes, the perceived importance of morale surveys translating into their 2017 use.
So, What Has Caused This Upsurge in Service Desk Staff Morale Surveys?
There are a number of possible causes, which I'll noodle on more deeply in a moment. For instance, that:
It's getting harder to recruit suitable IT service desk agents (because demand exceeds supply)
It's getting harder to retain IT service desk agents
Morale surveys are increasingly considered to be an IT service desk good/best practice
Service desk-related issues are increasingly being tied back to people issues (rather than to process and technology)
People believe that: happy employees = happy customers.
There's probably many more possible causes, but who wants to read a 2000+ word blog?
Potential Cause #1: Recruitment Issues
The IT service desk is changing. Maybe not as quickly as we would like, but it's changing.
Firstly, the growing use of self-service and automation – and the emerging use cases for artificial intelligence (AI) – mean that more of the simpler issues and requests are now avoiding the service desk. And thus, service desk staff are left with the more complicated and time-consuming issues and requests – requiring agents to go beyond service desk scripts to problem solve (and in a time-effective manner).
Secondly, end users and customers are demanding more from corporate service providers, including IT, based on their often-superior consumer-world experiences. These expectations not only relate to the IT support "quality" per se but also to aspects of customer service such as agent attitude and empathy (and not just "politeness").
As a result of both change drivers, there's a need for a different skill set for service desk staff. And the added personal capabilities required is potentially making them harder to recruit and then retain…
Potential Cause #2: Retention Issues
There's no doubt that the loss of IT service desk staff can have a significant effect on team knowledge and performance. Especially in relation to the loss of the "best" service desk agents, where "best" might be different across organizations and the combination of a number of personal skills and attributes. Plus, retention becomes harder as high-caliber service desk agents become more sought after (due to the previous point).
Retaining said staff would be a great reason for introducing staff morale surveys. But, playing devil's advocate – as is my gift of late – paying service desk agents more would also help! But SDI has this covered too, with longer-tenure agents already being rewarded financially (but many would argue that it's still not enough):
Service Desk Agent Salaries (UK)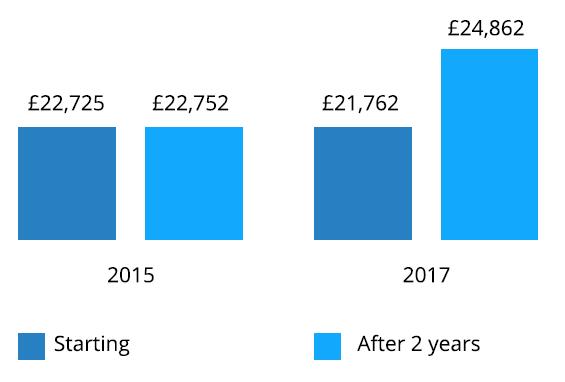 Source: SDI, Service Desk Benchmarking Report 2017
Hopefully, the staff morale surveys are being used to understand the internal causes of employee dissatisfaction (and satisfaction, so these can be enhanced) and ultimately the reasons people leave (and stay).
Potential Cause #3: Good/Best Practice
Have staff morale surveys recently been touted, within the ITSM industry, as an IT service desk best practice?
Not that I know of. Plus, to my knowledge, the use of service desk staff morale surveys has been an ITSM good practice for what seems like forever. Because, as with customer feedback, it's free consultancy as to what isn't (and is) currently working with service desk operations.
As such, it's unlikely that this is a primary cause of the sudden jump in morale survey use.
Potential Cause #4: Service Desk Issue Resolution
There's an oft-quoted ITSM adage that goes something like:
"The worst processes and tools can be saved by the best of service desk staff. But the best service desk processes and tools cannot make up for staff issues."
But despite this, how many organizations continue to reinvest in new ITSM tools and process improvement without tackling any inherent people issues? This isn't just the lack of suitable, or below par, people skills, it's also motivation levels and the removal of obstacles that prevent people from being the best they can be.
As with the previous Potential Cause #3, it would be great if organizations are proactively looking at the people-based root causes of operational and service quality issues. But it's highly unlikely that this has suddenly caused a step change in morale survey use – at least on its own.
Potential Cause #5: Happy Employees = Happy Customers
This is probably the vaguest – yet most interesting – potential cause for the increase in service desk staff morale survey use. Why? Because it requires a certain level of belief in what affects the way people work – beyond compensation levels, job security, and similar. Plus, it requires belief in the concept of happy staff providing better services that in turn creates happier customers. It's also an "umbrella" reason over those already mentioned.
There continues to be studies related to the connection between employee happiness and productivity levels but there isn't so much data related to employee happiness and customer happiness. There is some though, for instance the State of the American Workplace Report 2017, which shows that employees who are engaged are more likely to improve customer relationships – stating that:
"Highly engaged business units achieve a 10% increase in customer metrics and a 20% increase in sales."
Flipping this for simplicity, even in the absence of killer statistics that resonate with IT service desk management, common sense says that an unhappy front-line employee is probably going to have an adverse effect on customer happiness.
It's thus sensible that any IT support organization wanting to improve service and customer service would look to employee morale and motivation levels to identify both the issues and improvement opportunities, which will in turn improve IT-support and business outcomes.
The reality is probably going to be that the rise in staff surveys is going to be because of a mix of all of the above (dependent on the involved organization) plus other – potentially local – factors. But it's good to consider the potential "whys."
If you've recently introduced service desk staff morale surveys, why did you do so? Please let me know in the comments.

Posted by Joe the IT Guy
---