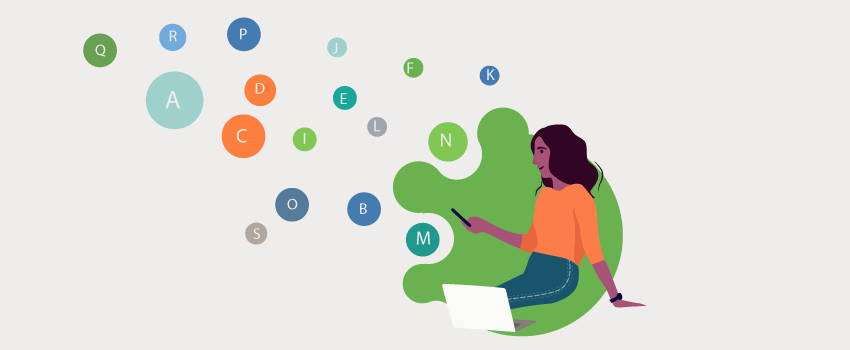 The A – Z of Knowledge-Centered Service (KCS)
Knowledge-Centered Service (KCS) is an IT service delivery and support capability that focuses on knowledge as a key asset of the IT support organization. If you haven't heard of Knowledge-Centered Service, then you might have heard of its previous name – Knowledge-Centered Support. The simple way of describing KCS is that it allows IT support teams to systematically capture knowledge and to then make it available to people to help them to deliver swifter and better IT support solutions.
My A – Z of KCS, outlined below, is designed to help you to understand more about what KCS is and how it would benefit your organization.
A

ttributes of knowledge

When getting started with KCS, it's helpful to look at knowledge as something that's built on from data and information. This is explained via the following three bullets:
Data – this is often raw in format, not organized in any way. Data represents singular facts and numbers in isolation. There's usually no context or structure given.
Information – data becomes information when it can be viewed in a specific context. If data is a series of facts, information is generally stored in some sort of structure. For example, documents or spreadsheets.
Knowledge – for information to become knowledge it must be processed, organized, or structured in some way, or else is being applied or put into action. Knowledge combines information with experience and can be used as a basis for decision-making or taking an action.
B

aseline your knowledge

When starting out with KCS, baseline the knowledge you've already got in your organization. We've all heard of the service desk being a single point of contact or SPOC, right? So, think of your knowledge base as your single point of all knowledge.

It's that simple, whether you have an IT service management (ITSM) tool, an intranet site, an internal wiki, store your knowledge in once central place such that everyone knows where to go to access it.

@Joe_the_IT_Guy has created this A – Z of Knowledge-Centered Service to help you to understand more about what KCS is and how it would benefit your organization. #ITSM Click To Tweet
C

ontent standards are critical to KCS

The KCS content standard describes the knowledge article structure to ensure that there's a level of consistency for the knowledge worker that will ultimately result in a more-easily-findable and useable knowledge article.

The content standard sets the knowledge article quality guideline by documenting the structure of each field (in the article), quality criteria (what is "good enough"), and the state (lifecycle) of the knowledge article.
D

emand-driven knowledge capture

When looking at the most appropriate content to add to a knowledge base, look at demand. What are your technical teams requesting training on? What "how do I?" type questions do your end users ask the most? Use the issues that most frequently come into support to determine the knowledge content to capture and validate.
E

arly

Search early and search often. The best way to capture knowledge is to search the knowledge base in real-time. This has a number of benefits. Firstly, if the content being searched for doesn't exist, then it's an opportunity for a new knowledge article. Secondly, if the content being searched for is there, but not findable, then the words and phrases that people use to search for an article can be used to improve the existing content or to create a new one.
F

lag it or fix it

Make your people accountable for the knowledge base by following the rule of flag it or fix it. Allocate time to people to not only create new knowledge articles but also time to fix minor content issues "in the moment" or to add extra content that improves upon an existing knowledge article.

For updates that require longer – or someone with more detailed knowledge – to improve, flag them as needing a review such that they can be dealt with by a subject matter expert.
G

lobal support through KCS

KCS has an ethos of "complete thoughts, not complete sentences" which lends itself well to global or multi-language support. This ethos and approach creates the following benefits in a multilingual environment:
Complete thoughts are often easier to understand than complete sentences
The structure used by KCS adds context, so even if something is hard to understand – because different languages can phrase things in different ways – the supporting notes will help the person reading to understand it.
KCS lends itself to machine translation.
H

ealth check created knowledge

Knowledge is a key IT support and business enabler. To ensure that it continues to add value, here are some tips on health checking your knowledge base:
Ensure that your knowledge base has content from both customers and technical staff. Customers will be able to share their perspectives, for example how an issue presents any symptoms or unusual application behaviors. Whereas technical staff will be able to provide the fix details. You need both sides for an article to be truly useful.
Present your articles in a consistent format so that they're easy to find and understand.
Make article quality the responsibility of everyone who interacts with the knowledge base. If knowledge workers feel a sense of ownership for the knowledge base and article quality, then it encourages regular feedback ensuring the knowledge content improves over time.
I

nternal motivators are key to KCS success

Internal motivators go a long way to making sure that your KCS model is successful. Hopefully, we all want our people to be engaged and motivated. In a corporate environment, there are four key areas that link to job satisfaction – these also play a part in encouraging knowledge sharing:
Achievement – for example, having your knowledge articles published or even improving your own skills in a particular area.
Recognition – the acknowledgement that your knowledge articles have contributed to people being able to complete a task, or being known as subject matter expert.
The work itself – that work is rewarding, with those involved always looking for ways to improve and evolve it.
Responsibility – for instance, the collective ownership of knowledge content. Don't forget "flag it or fix it" from earlier.
J

ust do it!

Just do something, anything, to get KCS started and then improve over time. Anything you do to start will be better than never having KCS in place. This could be having a specific focus, starting with the system that everyone struggles to support effectively. Ask your support team members to capture their most commonly used support tips and create a collaborative knowledge article.

Small steps like this are something that you can build on over time until you've got a fully-fledged KCS practice that supports and empowers your people.

Anything you do to start will be better than never having Knoweldge-Centered Support in place, says @Joe_the_IT_Guy. Click To Tweet
K

nowledge

It had to be the K in my A – Z, didn't it?

Knowledge is at the very heart of any KCS model. Hey, it's why it's called Knowledge-Centered Service. When creating knowledge content make sure your articles are timely, searchable, and – most importantly – usable by the audience, or audiences, being served.
L

oop articles

Loop articles enable KCS-employing organizations to identify and implement quality improvements by maximizing efficiencies and reducing rework. There are two types of loop articles in the KCS world:
Solve loop articles
Evolve loop articles.
The solve loop represents the responsibilities of a responder when they're fixing a requester's issue. The practices within this loop are reactive and transactional.
The evolve loop is more holistic. It represents the responsibilities of the organization and its leadership in defining the standards for content and continuous improvement.
M

arketing knowledge sharing and KCS use

To get people to engage with knowledge sharing you need to be able to market it effectively. All too often, IT departments operate on a "build it and they will come" philosophy, expecting people to simply use something that's newly introduced. However, simply making knowledge sharing capabilities available won't be enough to encourage people to use knowledge articles or other self-help applications.

Get people on board by communicating the reasons for, and benefits of, KCS adoption – including the "What's in it for me?" Promoting specific knowledge articles at team meetings, direct people to the self-service portal's self-help capabilities if you have one, or even have drop-in or lunch and learn sessions to demonstrate IT hints and tips that can save time.
N

avigation capabilities mustn't be underestimated

Make your knowledge content easy to navigate and ensure that there are no dead ends caused by broken links. There needs to be a smooth way to transition from the service desk portal to any knowledge articles and automation, ideally with chat options or support wizards to improve the overall experience.

Other ideas to improve navigation, and the ease of knowledge access, are:
A list of frequently asked questions (FAQs) or top ten articles
An index or table of contents
Basic or even advanced search bars.
O

ld content will hurt you

Knowledge articles are only useful if they're up to date, relevant, and correct. Outdated information is harmful as it can give users the wrong advice – not only wasting their time and delaying them returning to being productive, but also lowering their confidence in, and use of, knowledge. So, build in a knowledge review cycle and update or archive anything that is out of date.

Knowledge articles are only useful if they're up to date, relevant, and correct. Outdated information is harmful as it can give users the wrong advice – @Joe_the_IT_Guy Click To Tweet
P

erformance assessment mechanisms shouldn't be neglected

Identify the right performance drivers and metrics to assess the value created by KCS and knowledge sharing. Any assessment of KCS as a service will need to consider behavioral and procedural changes as well as the traditional metrics since the outcome of KCS is actionable knowledge rather than a product in a traditional sense.

Possible things to measure include:
Number of knowledge articles created
Number of knowledge article uses
Customer satisfaction with knowledge articles, with these scored via a number of possible methods
Impact of KCS on employee satisfaction and staff attrition rates.
Q

uality plays its part

An inherent part of KCS is quality. By using KCS as an approach you're helping to make sure that quality is important to everything that you offer as an IT department.

All too often, IT service desks are so overwhelmed dealing with the never-ending onslaught of incidents and service requests that they think of knowledge management as an afterthought. By putting the focus on knowledge, and having it as the heart and soul of the service desk, you're empowering your technicians as well as end users and allowing everyone to collectively level up their game.

Ultimately, having a knowledge-centered service enabled service desk helps your teams to be more responsive, resolve complex issues faster, and provide a more consistent customer experience. All of which will improve service quality.
R

euse is review

The reuse is review practice allows IT support organizations to constantly improve the knowledge articles being used. Articles should be written in a way that allows the service desk to resolve the issue while also putting the onus on the resolving group to be responsible for the quality of the content.

By improving the articles as they're reused, the article quality is increased with each interaction. An example of this is a service desk analyst linking an incident to a relevant knowledge article to improve the detail around how an issue presented itself or if any additional steps were needed to fix the issue.
S

elf-service success is dependent on knowledge too

Open up your IT service desk so that end users can request help in the way that's most appropriate to their needs. Some people like to look on the intranet for help, some will find gamification fun, so always give people options.

If you have self-service and self-help options promote them so that your customers know how to use them. And ensure that your knowledge articles are fit-for-purpose – the failure to do so, and the associated poor experiences, will severely impact the success of the portal in terms of repeat employee use.
T

eamwork makes the dream work

KCS should be everyone's job. So, prioritize creating a culture of collective ownership for knowledge. Convey the message that "This is our knowledge base. It's a living breathing help source that represents the best information we have for effectively supporting our end users."

Make it "part of the day job" that, when a team member reads a knowledge article, they check that it's fit for purpose. And, if it's not (as in letter F), they fix it in the moment or flag it for correction at a later date.

KCS should be everyone's job. So, prioritize creating a culture of collective ownership for knowledge - @Joe_the_IT_Guy Click To Tweet
U

nderstand what your IT support people collectively know

There's nothing more frustrating as a support technician when, having spent hours troubleshooting and attempting to fix an issue, you find out that another member of the team dealt with the same thing yesterday and had already documented the steps needed to resolve it.

It's the bread and butter of KCS – IT support teams need to understand what they collectively know so that they don't spend time and energy fixing issues that have already been resolved.
V

alue creation

KCS is all about value creation via the product of actionable knowledge. Whether it's a service desk analyst fixing a customer laptop, a network engineer addressing slow network speeds, or another IT support role in action, they're all possibly going to succeed more quickly with pertinent knowledge to them – gaining better outcomes through actionable, valuable knowledge.
W

ays of working are changing with KCS

The introduction of KCS is a step-change in working and, as such, needs to be managed as a people change not just a process and/or technology change. Introducing knowledge management is a move from the traditional ways to a more a collaborative way of working. Provide coaching and training, but the most important thing is to provide an environment where it is safe to collaborate, to take risks, bounce ideas, and share experiences.
e
X

perience

OK, it's a cheat for X, but X is always hard in A – Z lists.

The reality is that KCS is also about upping the customer or employee experience through speedier resolutions and better outcomes. Done well, KCS will move your IT service desk from being seen as a place to log calls to an organization that creates business value knowledge through effective service and support capabilities.

And don't assume that what you're doing is meeting stakeholder expectations. Engage in regular service reviews where, by checking in with your business stakeholders, you can get a real handle on what's working well and what needs more work, including where to focus your KCS investments next.
Y

ou

As in what can KCS do for you (and your customers)?

KCS can give you real wins in terms of cost and efficiency savings as well as people-based improvements. From an IT perspective, example benefits include:
Higher first-time fix rates
An improved self-service offering
Greater knowledge use, and reuse, by both IT team members and end users
More motivated IT staff and higher levels of retention (because work-life gets easier)
Less risk of knowledge loss with leavers
Easier and more effective onboarding of new staff.
Z

ing!

KCS will add some zing into your IT support practices (yes, I really just did that). From the KCS approach making IT support staff more effective to end users accessing self-help. Knowledge can be used to increase the fix rate at the first point of contact; it can also be used to signpost things that can't be fixed by the first line quickly and effectively. Both result in improved first-time fix rates, reduced downtime, and increased customer satisfaction.

So, that's my KCS alphabet done. What else would you include in a KCS A – Z list? Please let me know in the comments.

Posted by Joe the IT Guy
---